Hamas er allerede i fuld gang med at genopbygge sit massive raketarsenal, så de er klare til igen, igen og igen at angribe Israel i næste krig, ifølge iranske medier. Hamas har angiveligt meddelt iranske medier at de har genoptaget deres raketproduktion efter terrorgruppens seneste raketangrebsrunde mod Israel sluttede, hvor Israel forsvarede sig mod mere end 4300 raketter som regnede ned over det meste af Israel i 11 dage. Hamas har i snit angrebet flere israelske byer med 2000 raketter hvert eneste år i 20 år. De gentagende raketangreb mod Israels civilbefolkning har voldsomme konsekvenser på alle fronter – ikke mindst israelske børn som vokser op med lyden af raketalarmer og frygten for at dø.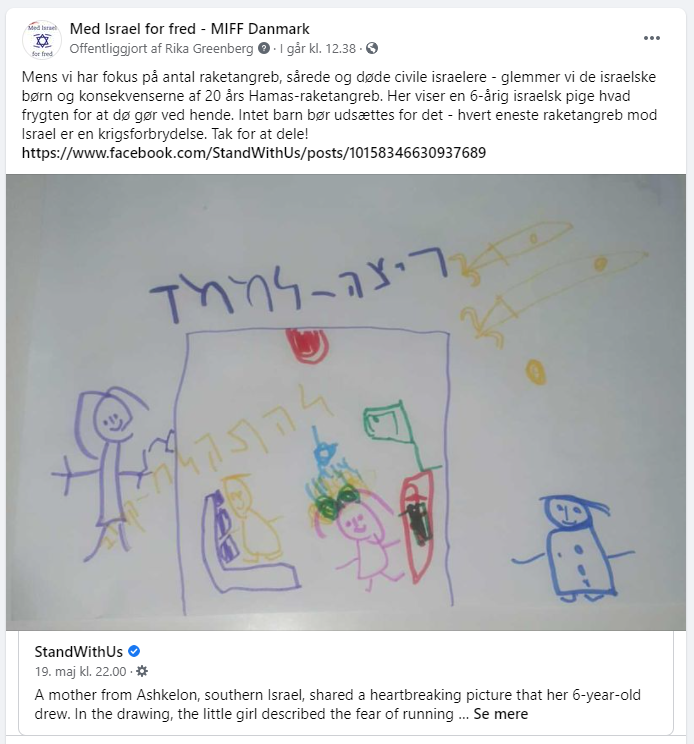 Læs: – Israel har ikke ret til at eksistere. Danske journalister burde tale med Hamas-grundlægger inden de udtaler sig om terrorgruppen.

Læs: To danske kvinder fortæller om livet med Hamas-raketter. Terrorgruppen Hamas har angrebet Israels civilbefolkning med raketter i 20 år og de rammer alt og alle – også danskerne som lever i landet.
Læs: Våbenhvile trådt i kraft – endelig fik Israels indbyggere en rolig nat. Terrorgruppen Hamas fortsatte med at angribe Israels civilbefolkning helt frem til våbenhvilen trådte i kraft i nat.

Læs: – Jeg er målløs over de ødelæggelser jeg har set. Flere europæiske udenrigsministre besøgte Israel for at vise støtte og sympati.
Hamas fortalte sine iranske støttespillere at «vores produktionslokaler og fabriker har genoptaget produktionen af flere tusind raketter». I løbet af den 11 dage krigen varede mellem terrorgruppen og Israel i medio maj, angreb Hamas som tidligere nævnt flere israelske byer fra Gaza med mere end 4300 raketter. Læs: Gæt hvem betaler for Hamas-raketterne. Hamas behøver ikke at bekymre sig om raketudgifterne – regningen er betalt.
Iran er en af terrorgrupperne Hamas' og Islamisk Jihad' vigtigste støttespillere, de to terrorgrupper er også de største i Gaza. Iran forsyner terrorgrupperne med penge, våben og teknologi. Iranske ledere havde flere gange kontakt med Hamas mens kamphandlingerne mod Israel stod på. Iran kom efter sigende med råd og støttede deres kamp mod Israel. Hamas har offentligt takket Iran for støtten.
Hamas har omkring 15.000 raketter, derudover har Palæstinensisk Islamisk Jihad også mange raketter. Nogle af deres raketter har en rækkevidde på 250 kilometer. De fleste raketter har iransk teknologi. Nogle er også produceret i Iran, skriver Jerusalem Post.
Læs om terrorgruppen Hamas HER.