Israels forsvarshær (IDF) anti-terroroperationer i Judæa og Samaria (Vestbredden) fortsætter også i 2023. Det er en direkte konsekvens af terrorbølgen i 2022, som kostede 31 israelere livet – det højeste antal terrorofre siden 2008.
I 2022 blev over 2.500 terror-mistænkte anholdt, et stort antal våben blev beslaglagt og mange millioner kroner blev konfiskeret. Over 160 palæstinensere blev dræbt under anti-terroroperationerne – næsten alle de dræbte var involveret i terror.
Israels anti-terroroperationer har afværget over 500 terrorangreb.
Den 9. januar gennemførte IDF endnu en anti-terroroperation i Judæa og Samaria – 11 terrormistænkte palæstinensere blev anholdt og flere våben blev beslaglagt, skriver Times of Israel.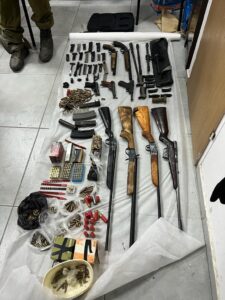 Under en anti-terroroperation i Hebron fandt IDF fire snigskytterifler, to jagtrifler, tre håndvåben og andre våbendele.
I landsbyen Shuweika tæt på Tulkarem skød palæstinensiske terrorister mod IDF-soldater, i forbindelse med IDFs anholdelse af eftersøgt terror-mistænkt. Også i Abu Dis og al-Eizariya i udkanten af ​​Jerusalem, blev IDF mødt med vold:
– Under anti-terroroperationerne kastede de mistænkte med sten, sprængstoffer og brandbomber mod soldaterne, udtaler IDF.
De elleve mistænkte blev kørt til afhøring hos Israels interne sikkerhedstjeneste Shin Bet. Der er ingen meldinger om sårede IDF-soldater.
Udfordringen i Judæa og Samaria er at de palæstinensiske myndigheder (PA) har mistet kontrollen i byer som Nablus og Jenin. Byerne er præget af lovløshed og flere terrorgrupper har sat sig på byerne og udgør nu en reel risiko mod Israels sikkerhed.
De fleste terrorangreb mod israelere i 2022, blev udført af terrorister fra Nablus og Jenin. Chef for IDFs militære efterretningstjeneste, brigadegeneral Amit Saar, vurdere at situationen i Judæa og Samaria vil eskalerer yderligere i 2023.
IDFs statistik for 2022 viser også en tydelig eskalering i antal terrorangreb/terrorforsøg i Judæa og Samaria.
MIFF har gentagende gange gjort opmærksom på at palæstinenserne udsættes for hjernevask og indoktrinering til at hade Israel fra vugge til grav og oplærer børn til væbnet kamp og den lette adgang til våben gør det ikke bedre.