Tre terrorister fra den palæstinensiske iransk-støttet terrorgruppe Palæstinensisk Islamisk Jihad (PIJ) blev her til morgen skudt og dræbt af israelske styrker i Judæa og Samaria (Vestbredden).
En talsmand fra Israels grænsepoliti udtaler at israelske undercover-agenter gik ind i den palæstinensiske landsby Jaba syd for Jenin for at anholde to mænd eftersøgt for flere skudangreb mod israelske soldater i området.
Alt tyder på at de to efterlyste palæstinensiske terrorister og en anden terrorist, skød mod styrkerne fra forbikørende bil. Israelerne besvarede ilden og dræbte de tre terrorister, skriver Times of Israel.
Terrorgruppen PIJ udtaler at de dræbte terrorister tilhørte deres terrorgruppe og bekræfter at de skød mod de israelske styrker. Israels politi har meddelt at de dræbte terrorister er Ahmed Fashafsha (22), Sufyan Fakhoury (26) og Nayef Malaysha (25). Sidstnævnte blev løsladt i sidste måned fra israelsk fængsel.
Ingen israelere blev såret i forbindelse med antiterror-operationen.
På billedet ses våben og eksplosiver fundet i terroristernes bil: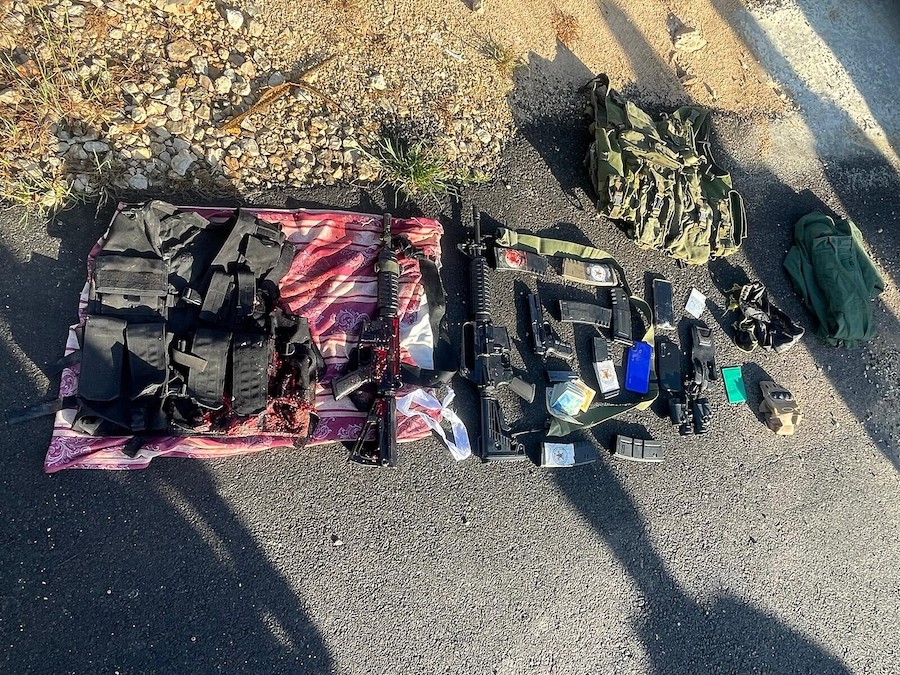 I over et år har spændingerne været meget høje mellem Israel og palæstinensiske terrorister – især i de PA-kontrollerede byer i den nordlige del af Vestbredden. I byerne Jenin og Nablus har de palæstinensiske myndigheder (PA) mistet kontrollen og terrorgrupper har taget over. Israel har igennem længere tid bedt PA's sikkerhedsstyrker om at sørge for at tage kontrollen tilbage ved eksempelvis at patruljere i Jenin, men det har de nægtet. Derfor er Israel nødsaget til selv at stoppe terrorgrupper og terrorceller i at begå terrorangreb mod israelere.
I 2022 kostede palæstinensisk terror mindst 32 personer livet i Israel og blev det blodigste år siden 2008.
I 2023 har mindst 14 personer allerede betalt med livet for palæstinensisk terror. Derfor er Israels antiterror-operationer afgørende for at minimere risikoen for at flere israelske liv går tabt i meningsløs terror.
I Judæa og Samaria (Vestbredden) blev over 170 palæstinensere dræbt under antiterror-operationer – over 90% af dem var involveret i terror. men også nogle civile er døde.
I 2023 er mindst 74 palæstinensere døde – de fleste af dem under skudveksling og kampe mod israelske soldater, men også civile er døde da de havnede i skudlinjen.