25-årige Yehuda Dimentman, gift og far til lille barn myrdet her til aften i skudterrorangreb i Judæa og Samaria (Vestbredden). Yderligere to israelere blev såret mens de kørte i bil og terrorister åbnede ild mod dem. Skudangrebet skete tæt på den israelske bosættelse Homesh, tæt på Nablus, skriver Times of Israel.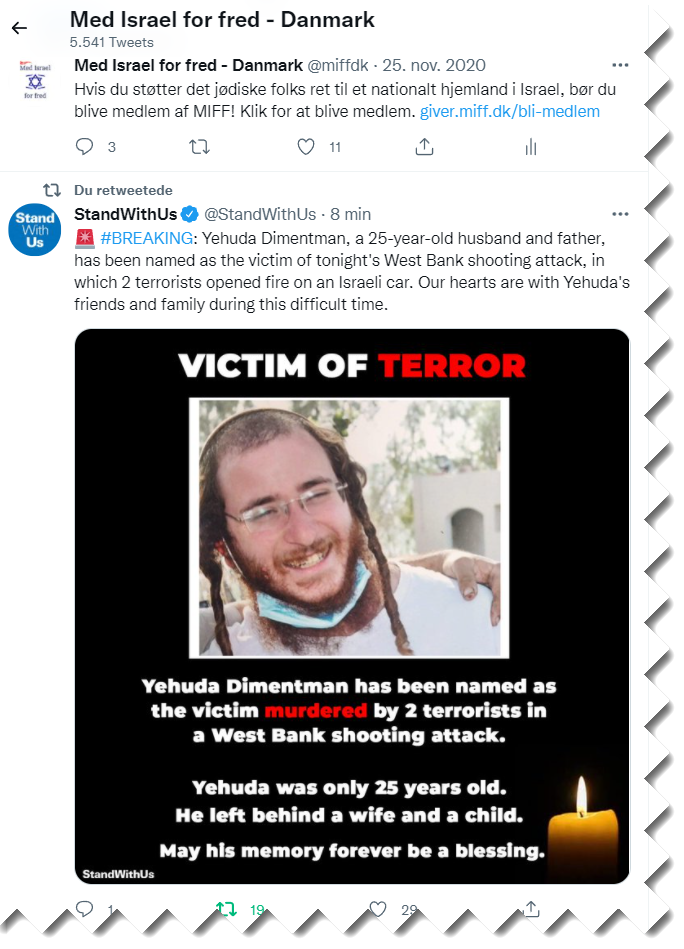 Israelske soldater kom hurtigt til stedet og satte vejspærringer op i området i forsøg på at fange terroristerne, som fortsat er på fri fod. To bevæbnede terrorister skød mod israelernes bil som blev gennemhullet af skud.
Yehuda Dimentman blev kritisk såret ved angrebet efter han blev skudt i nakken, redningsfolk forsøgte at redde ham, men hans liv stod ikke til at redde.
premierminister Naftali Bennett sender sine kondolencer til terrorofrets familie og lovede at sikkerhedsstyrkerne vil finde terroristerne som står bag terrorangrebet.
De palæstinensiske terrorgrupper Folkefronten for befrielsen af Palæstina (PFLP) og Hamas hylder terrorangrebet, men ingen af dem har endnu meddelt hvorvidt de står bag angrebet.
De seneste uger er der sket en kraftig stigning i antallet af terrorangreb mod israelere og israelsek myndigheder frygter at endnu en terrorbølge er på vej. Alene i Jerusalem har der været mindst fire terrorangreb. I november blev 26-årige Eliyahu Kay myrdet på klods hold af terrorist med automatvåben i Jerusalems gader, fire andre israelere blev såret ved angrebet. Terroristen var lærer i Øst-Jerusalem. Den seneste måned er mindst to israelere blevet myrdet, over ti israelere er såret.