Det har vakt stor vrede at Interpol har besluttet ikke at efterlyse den palæstinensiske terrorist Ahlam Tamimi som var involveret i i selvmordsangrebet for 20 år siden på Sbarro-restauranten i Jerusalem som kostede 15 personer livet, inklusiv den amerikanske statsborger Malki Roth, skriver avisen The Algemeiner.

Læs også MIFFs artikel: Underskriftaktion: Kræv at Jordan udleverer terroristen som dræbte Malki og 14 andre. Underskriftaktion kræver at Ahlam Tamimi udleveres til USA så hun kan modtage den straf, hun fortjener.
Tamimi blev idømt mere end 12 livstidsdomme til afsoning i israelsk fængsel, men i 2011 blev hun løsladt ved fangeudveksling da den israelske soldat Gilad Shalit blev leveret tilbage til Israel af Hamas. Hamas tilbageholder fortsat de jordiske rester af to israelske soldater samt to israelere som menes at være i live – læs mere HER.

Tamimi lever i dag i Jordan som nægter at udlevere hende til USA til retssag. Hos FBI står hun fortsat opført som "Most wanted terrorist".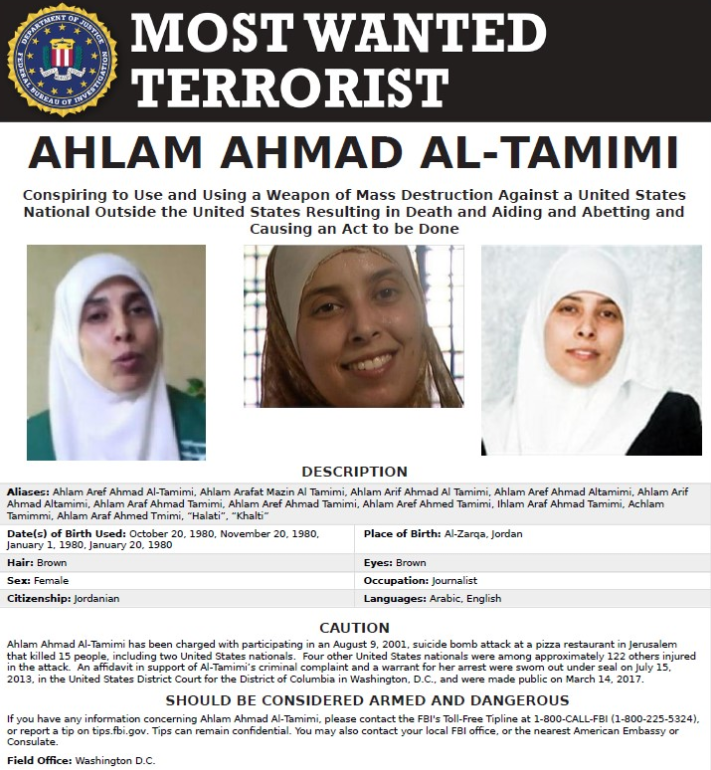 Den 12. marts rapporterede avisen Times of Israel, at Interpol ikke længere efterlyser Tamimi. Interpol havde også fjernet hendes billede fra deres liste over eftersøgte terrorister.
Tamimis mand skrev på Facebook at det er resultat af halvanden års pres og at kampen for at få hende fjernet fra listen ikke er overstået endnu.
– Vores kamp vil fortsætte til hendes sag er helt lukket, og vi vil mødes efter vores langvarige adskillelse og nyde et roligt, stabilt liv, som vi længtes efter, skriver Tamimis mand.
På Twitter-kontoen @PalesAbroad tweetede et postede et billede af Tamimi til kagefest.
Faderen til det amerikanske terroroffer, Malki Roths far kalder Interpols beslutning: – Afstumpet og uvelkommen. Interpol er bukket under for pres fra terroristens familie, advokater og klan i Jordan.
– Min kone og jeg vil ikke opgive vores kamp for at den afskyelige person – legemliggørelsen af ​​morderisk ondskab – stilles til regnskab for sine forbrydelser, udtaler Malkis far.
Simon Wiesenthal-centrets direktør for internationale relationer, Dr. Shimon Samuels har skrevet til Interpols generalsekretær og opfordret ham til at omlægge beslutningen: – Tamimi udviser manglende anger og har gentangende gange sagt at hun er stolt over angrebet.
Palæstinensisk misbrug af internationale politiske, juridiske, kulturelle og uddannelsesorganisationer – har omdannet dem til slagmarker. Interpol har fjernet Al-Tamimi fra deres 'Most Wanted-liste'. Det er et uhyrligt skridt som vil tilskynde til endnu mere terror. Samtidigt nægtes ofrene, de overlevende og deres familier retfærdighed, skriver Simon Wiesenthal-centrets direktør for internationale relationer, Dr. Shimon Samuel til Interpol.