Under en afslutningsceremoni i Dar-al-Huda-børnehaven i Gaza deltog børn, klædt ud som terrorister fra Islamisk Jihad, i et simuleret terrorangreb på israelere. Ceremonien omfattede brugen af ​​droner, kropskameraer, skudsikre veste, militære uniformer og våbenimitationer, skriver den britiske avis Daily Mail.

Mens forældre, familie og venner sad i hallen, upførte børnene en sofistikeret opvisning på scenen, som omfattede et angreb på, hvad der skulle efterligne en israelsk bygning. Der tog de en israelsk soldat og en civil israeler som fanger.

Ifølge organisationen NGO Monitor skete hændelsen d. 26. maj sidste år. Kun et par uger før opvisningen blev der arrangeret en workshop i børnehaven om, hvordan personalet kunne disciplinere børnene positivt i deres hverdag. Uddannelsen havde modtaget økonomisk støtte fra den svenske regering. Redd Barna og Palestinian Centre for Democracy and Conflict Resolution, organisationer, som Norge støtter økonomisk, bidrog også. Læg mærke til at Danmark også er med på listen over bidragsyderer (klik på link og se skærmdump nedenfor).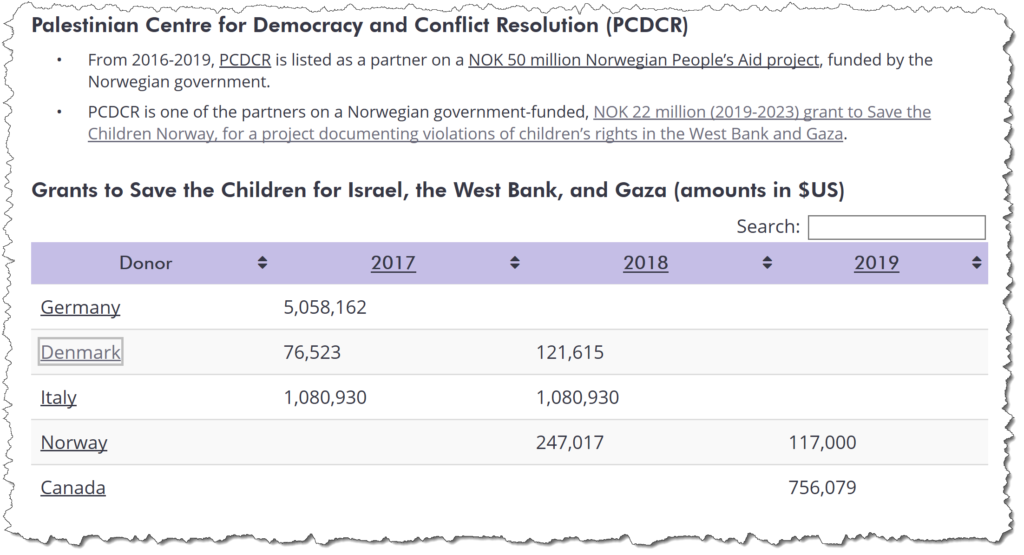 Videoen fra ceremonien ligger også på Facebook.
I årene 2017 til 2019 har den svenske regering brugt omkring 18 millioner kroner på Red Barna-projekter på Vestbredden og Gaza for at sikre, at børn ikke udsættes for fysiske og psykologiske overgreb. Projektet arbejdede også for at sikre, at krænkelser af børns rettigheder dokumenteres og adresseres – og at de, der krænker børns rettigheder holdes ansvarlige.

En talsperson for det svenske styrelse for internationalt udviklingssamarbejde (SIDA) benægter, at de penge, de har givet til projektet, er gået til træning i had.
-SIDA støtter ikke hyldest af vold eller terror, hverken i Palæstina eller andre steder. Derudover har vi absolut ingen indikation af, at aktiviteter, der udføres af Red Barna i Palæstina med støtte fra SIDA, fremmer vold eller terror, og vi er overbeviste om, at det ikke er tilfældet, sagde talsmanden.
Hændelsen i maj sidste år er ikke første gang, en sådan ceremoni afholdes i børnehaven. I 2017 var der en lignende ceremoni, hvor børn klædt ud som terrorister fra Islamisk Jihad dræbte det, der skulle efterligne to ultra-ortodokse jøder.